The History, Mission, and Team Behind the Hispanic Affairs Project
History of the Hispanic Affairs Project
The Hispanic Affairs Project (HAP) was founded in 2006 by Hispanic immigrant leaders from the communities of Grand Junction, Delta, Olathe, Montrose, and Hotchkiss. These first-generation leaders participated in faith formation programs within the Catholic Church and realized the need to reach a rapidly changing population. Addressing the needs of the new Hispanic immigrant community in the Western Slope led to action, organization, and the formation of HAP.
Reducing the barriers faced by immigrant families, such as lack of integration, social inequalities, and limited opportunities for economic development, remains the focus of our work.
At the local, state, and federal level, we advocate for pro-immigrant policy changes that protect and increase access to resources for immigrants. Our efforts have led to a number of significant victories.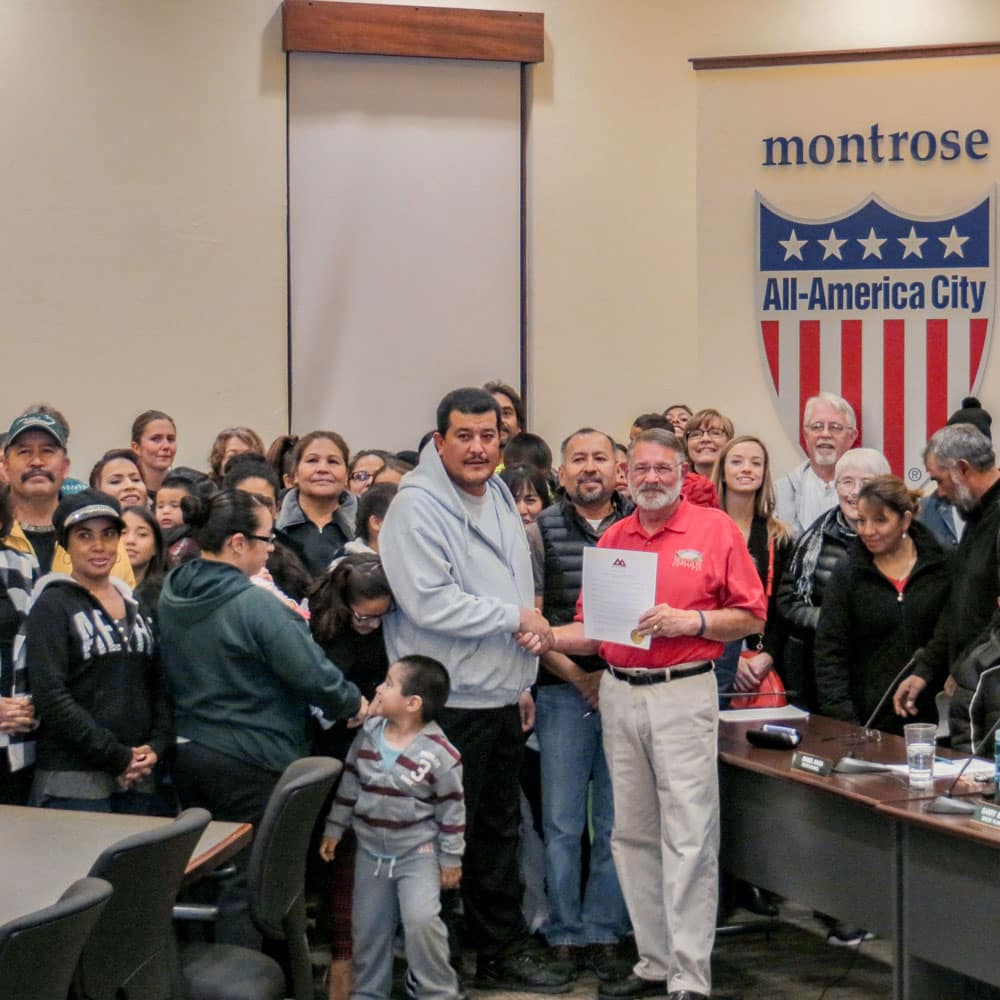 Read More...
Among other successes, we worked with partners to build a statewide coalition to support SB21-087 Agricultural Workers' Rights legislation. This was passed in 2021, providing state labor and employment protections for migrant and seasonal farm and ranch workers. This success builds on our federal wins against the US Department of Labor and the US Department of Homeland Security, as a result of which the range worker (sheepherder) worker salaries were increased from $750 to $1,206.
We also helped make changes to the H2A Range Worker visa program to provide more permanent visas and improved employment opportunities for workers in this program.
As part of COVID-19 Emergency Response efforts, we created the Western Colorado Immigrant Relief Fund focused on providing emergency rent, utility, and food/ household assistance to families excluded from government COVID-19 emergency relief programs.
Additionally, HAP partnered with the Left Behind Workers Fund to assist a greater number of impacted undocumented workers in the region in need of cash and rent assistance.
We launched the first-ever nonpartisan Get Out The Vote campaign to encourage the participation of Latino voters in the 2020 general election focused on voter registration and education.
Through our immigration legal assistance program, we have provided reliable low-cost services to over 1,000 individuals, which leads to greater social and economic stability for entire families.
Annually, we connect over 1,500 families with resources through direct assistance, outreach and education, and online communications.
Finally, we have actively contributed to the State COVID-19 Health Equity Response Team to strengthen community knowledge and awareness about issues of discrimination, bias, and inequality impacting our communities.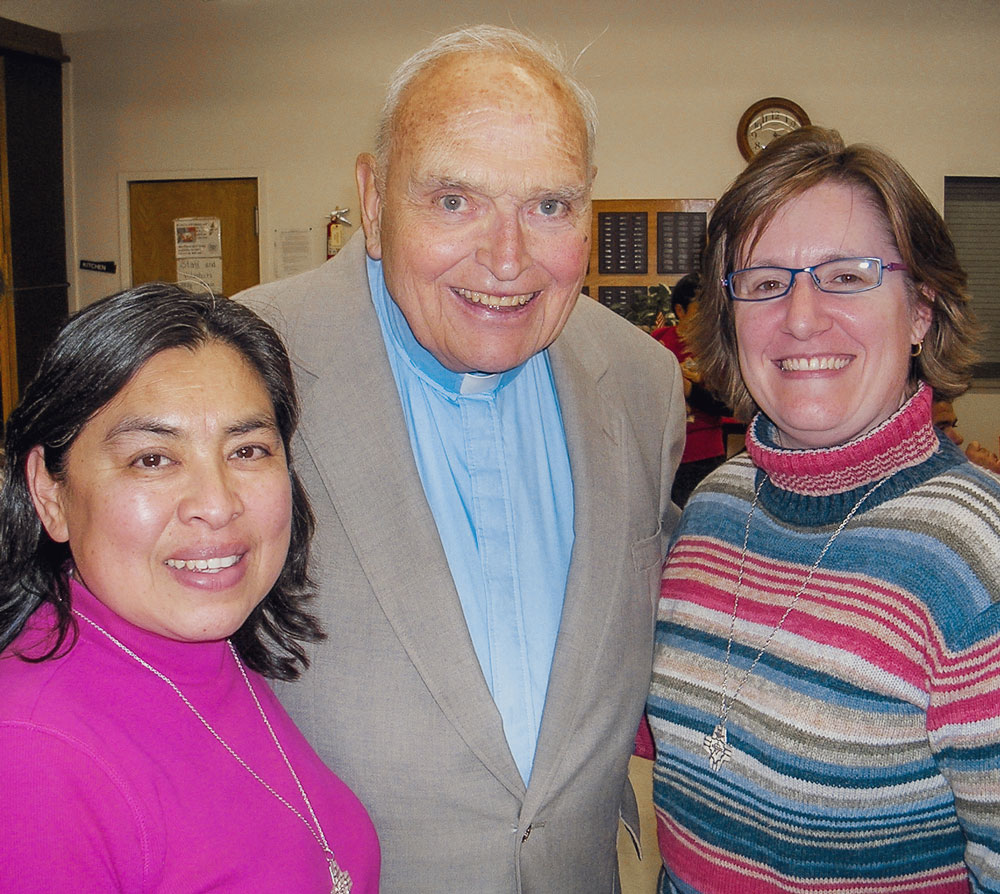 Father Kiernan
July 7, 1924 – May 24, 2010.
"You can't keep politics out of the church. We're called by God to create a just society."
The son of Irish immigrants, Fr. John Kiernan dedicated his life to advocating for immigrant rights and US foreign policy change after his experiences as a Catholic priest in Latin America.
Read More...
In the 1980s, Fr. John worked as an associate of the Maryknoll Missionaries in Bolivia and Guatemala, where he learned Spanish. When the former monk returned to Western Colorado, he became actively involved with the immigrant and migrant farmworker communities. It was his ministry to this population that inspired the formation of HAP. He encouraged church leaders and parishioners to not just minister to the immigrant community, but also to fight for social justice and immigrant rights. Thanks to his commitment to the community, HAP was founded and Fr. John continues to inspire our work.
Fr. John rarely missed a chance to discuss political and social issues or take action. From military spending to protecting the environment, John marched against the war in Iraq and fought for immigrant rights. He was often criticized for talking about political issues in church sermons, but his response was always the same: "You can't keep politics out of church. We're called by God to create a just society."
Mission and Vision
The Hispanic Affairs Project (HAP) is a grassroots organization dedicated to supporting the social and economic development of immigrant communities in Western Colorado.
Our mission is to promote immigrant integration through advocacy, leadership development, and the provision of key services.
By assisting our community, raising awareness about important issues, and engaging our community leaders, we are able to amplify the immigrant voice to make positive, lasting change.
Social Justice. Social Change
Fostering a Culture of Equity and Inclusion
Recognize and Celebrate Diversity in our Communities
We envision communities where cultural diversity is embraced, and where immigrants actively contribute to creating a more just and equitable society.
Belonging begins with us and we aspire to build bridges and mutual understanding in our community, encouraging our members to build connections and foster a feeling of trust through knowledge. We want to cultivate belonging, thus encouraging positive experiences and creating community leaders.
We serve individuals and families in a six-county region including Mesa, Delta, Montrose, Gunnison, Ouray, and San Miguel counties.
Staff and Board of Directors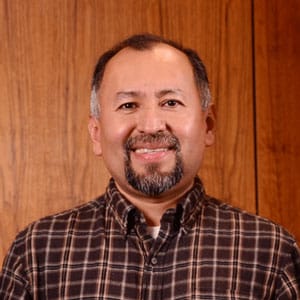 Ricardo Perez
Executive Director
Ricardo helped found the Hispanic Affairs Project in 2006. He has over thirty years of experience working as a community organizer and leadership development trainer for community projects and social justice institutions in El Salvador, Guatemala, and the United States.
Read More...
Ricardo was born in El Salvador where he actively participated in the
social movement to advocate against oppressive systems and in favor of equality for the Salvadoran community.
Before coming to live in the US, he worked for eight years as a technical coordinator for an NGO on local/regional reconstruction projects. He gained a great deal of experience in municipal government, public administration, and program implementation for social, economic, infrastructural, and environmental projects.
His educational background includes a Bachelor's Degree in Philosophy and a Master's Degree in Latin-American Theology with other studies in social planning, social research methodology, popular education, and local sustainable development.
In 2011, Ricardo received the Immigrant Liberty Award from the Colorado Chapter of the America Immigration Lawyer Association for his commitment to the immigrant rights movement. Ricardo was honored by the Latino Community Foundation of Colorado as the recipient of the 2020 Soul of Leadership Award for his courageous leadership and deep commitment to the advancement of Latinos. Currently, he collaborates with other regional, state, and national boards and committees working for social justice.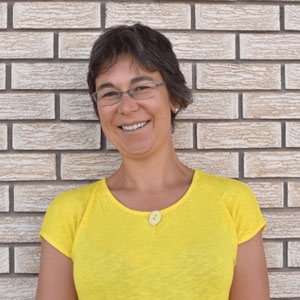 Marketa Zubkova
DOJ Accredited Immigration Legal Representative
Marketa comes from the Czech Republic and has been enjoying her life in the mountains of Crested Butte for more than a decade. Her primary role with HAP is to provide immigration legal assistance to low-income families as a DOJ Accredited Immigration Legal Representative.
Read More...
She has been a HAP leader since the beginning of the organization working with the immigrant population in Gunnison. In her work, she has focused on the diversity of the immigrant population and immigrant integration.
She has done extensive research about the Cora Indians, an indigenous group from Nayarit living in Western Colorado, and their integration as a minority culture.
Marketa holds a Magister of Czech & English Philology degree from the Palacky University, a Bachelor of Arts in Spanish from Western State Colorado University, and a Master of Arts in Cultural Studies with Emphasis on Latin America from Prescott College. In 2012 she received HAP's John Kiernan Award for solidarity and commitment to the immigrant community.
In 2013 she received the 8th Immigrant Liberty Award from the Colorado Chapter of the America Immigration Lawyer Association for her extensive volunteer work with the immigrant community and the outreach with H2A range workers. She is a recipient of the 2019 Mountain Leader Award from the Western Colorado University's Center for Mountain Transitions for her work in the Gunnison Valley.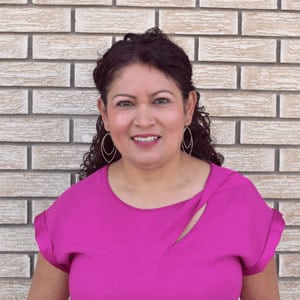 Elisa Rodriguez Mejia
Community Advocate in Montrose County
Born and raised in Mexico, Elisa has a Bachelor's degree in Social Work from Minot State University. She is in tandem with the struggles of the immigrant community as a first-generation immigrant herself.
Read More...
She moved to Montrose Colorado in the late 1990s and alongside her husband
was actively involved with HAP from 2006 to 2012, helping HAP to find success in the project's early stages.
They moved to North Dakota for five years and have now returned to Montrose, a place they call home.
During Elisa's time in North Dakota, she had the privilege of working with the Native American community, learning about their culture, values, customs, and centuries of struggles.
In 2016, Elisa was elected President of the Native American Club (NAC) at Minot State University, helping to organize the annual Powwow and to recruit and organize other Native American events.
During her time in North Dakota, she visited Standing Rock and witnessed the oppression, prejudice, and racism towards those who were here prior to any other people. She volunteered for the Minot Domestic Violence Crisis Center/Shelter, where she became aware of the physical, psychological, emotional, and social impacts and distress that battered women endure with their children.
Elisa fell in love with HAP's work and decided to pursue a degree in social work. As HAP's community advocate, her primary role is to organize mobile home park residents in the city of Montrose, assist families in need, and represent the organization in collaborative networks. Elisa is passionate about social justice, civil rights, and human rights for all, especially for underserved communities.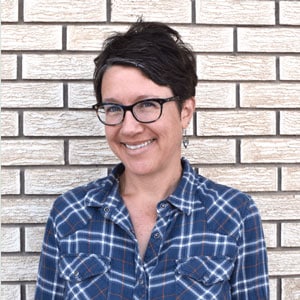 Karen Sherman Perez
Community Relations and Development Director
A Montrose native, Karen has been connected with the immigrant and migrant farmworker communities for 20 years. After graduating from Fort Lewis College with a degree in environmental biology, Karen left for El Salvador as part of the U.S. Peace Corps where she worked on environmental education and agroforestry projects in rural communities.
Read More...
After Peace Corps, she continued working in San Salvador as an English language instructor until returning to Western Colorado in 2003. Since then, Karen has advocated for immigrant families. Her work included coordinating Project Common Ground, a Mesa County community and immigrant integration effort from 2006-2009, as part of the statewide Supporting Immigrant and Refugee Families Initiative. Through the effort, Karen became involved with the national Welcoming America initiative working to launch a welcoming initiative in Mesa County and serving on the Welcoming America Board of Directors.
Following this effort, Karen worked with the Colorado Immigrant Rights Coalition (CIRC) for nearly a decade filling a few different roles. As a regional organizer, she worked to engage local communities in policy and advocacy campaigns to advance local, state, and federal policies that protect immigrant families.
She later transitioned into the role of CIRC's first development director, helping to build the necessary fundraising infrastructure and capacity to ensure the sustainability of the coalition and the movement.
Karen joined the HAP team in 2018 to build community engagement capacity among local stakeholders with the goal of building a more welcoming and inclusive community. Additionally, Karen oversees HAP's fundraising and communications programs.
When she is not working on other local organizing issues, Karen can be found digging in her garden, spending time with friends and family, or out hiking across the beautiful Western Colorado landscapes.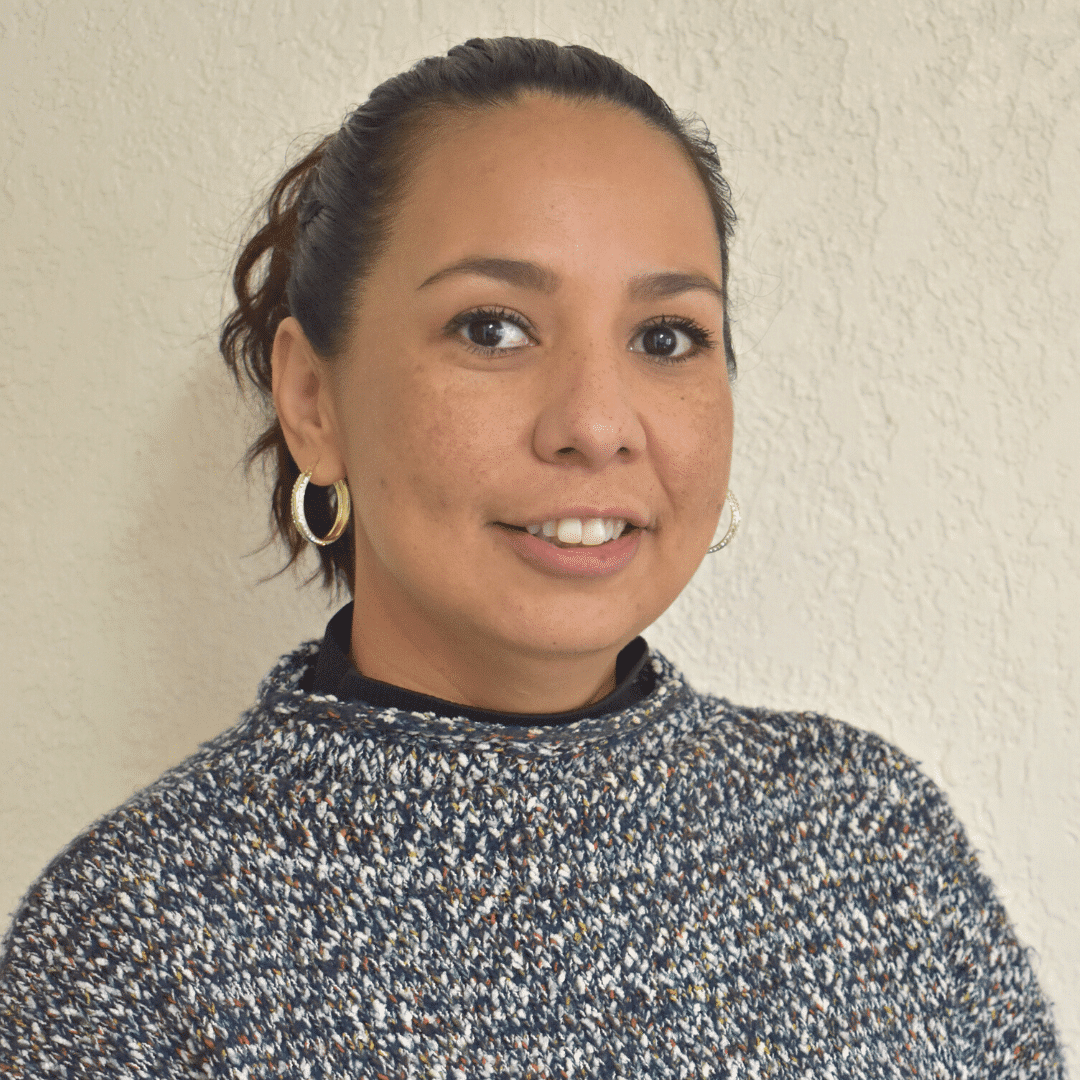 Karla Montoya
Project Coordinato - Sexual Assault-Domestic Violence Prevention
Originally from the State of Coahuila, Mexico, Karla Montoya recently moved to Western Colorado. She has a degree in Business Administration from the Autonomous University of Coahuila and 20 years of experience in the area of ​​Administration and Human Resources. She spent the last 17 years of her career working for a Transnational company and defines this as a period of great learning and challenges. Karla has always been surrounded by powerful women, both in her family and career, and they provided the inspiration and drive to develop and exercise her leadership to help others.
Karla has had the privilege of being a mother, a wife, and a professional – and while she has had great satisfaction and achievements in these roles, her role as a woman has allowed her to discover the call to help other women making life transitions through healing, education, and empowerment. Karla joined the HAP team in January 2023 as the Sexual Assault and Domestic Violence Prevention Project Coordinator. In her role, she will be reaching out to rural communities throughout the region to provide education and resources to the Spanish-speaking community. Karla is excited to integrate into her new role and to continue to grow together with other women leaders.
[/learn_more]
Board of Directors
Tom Acker, Ph.D., President
Colorado Mesa University Professor
Grand Junction, CO
Joel Flores, Vice-President
Construction Worker
Grand Junction, CO
Carla Hernandez, Treasurer
Montrose High School Teacher
Olathe, CO
Richard Hyland
Retired Educator
Grand Junction, CO
Marcos Irigoyen, Secretary
Insurance Agent
Denver, CO
Jose Pacheco, Director Emeritus
St. Mary Catholic Church
Montrose, CO
James Perez, Ph.D.
Colorado Mesa University Professor
Grand Junction, CO
Patricia Voorhis
Retired Educator
Montrose, CO
Annual Reports